Orthodontics & Mouthguards
Orthodontics
We offer a full range of Orthodontic services for the specialist practitioner and the general dental practitioner with an interest in Orthodontics.
We appreciate the importance of patient co-operation in successful orthodontic treatment and the role that comfortable, well fitting appliances play.
That is why we pay such individual attention to each and every case.
Pro shields mouthguards
The pro-sheild mouthguards are essential kit for sportsmen and women who are looking for protection whilst competing in high impact sports.
Available in a large range of colours and designs we can customize your gum shield to your exact requirements.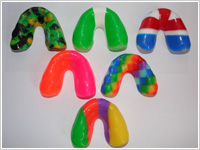 Anti-Snoring System
Studies have shown that approximately 40% of the population snore and that this increases to 60% in Men over the age of 60.
What causes snoring?
When the throat muscles relax in sleep, they are less effective in holding your breathing passages open. The soft sides of the airway tend to close in, and the air has to move faster through a smaller space.
This causes vibrations of the soft tissues which generate the noise of snoring. It has also been shown that excess body weight, heavy alcohol consumption and other sedatives or sleeping on your back can increase the severity of snoring.
These anti snoring devices are work at night and usually operate by displacing the lower jaw forward in an anterior direction in order to achieve the opening of the pharyngeal section of the airways.